Scholarship
Application Guide of MEXT scholarship for iART Program
@ Dept. of Creative Informatics,
  Graduate School of Computer Science and System Engineering
This program aims to develop autonomous robots and AI technology to improve the productivity and efficiency of robots, solve problems faced by local entrepreneurs, and conduct research on Innovative Robotics/AI Technology (iART) in collaboration with Japanese and international students, as well as local companies.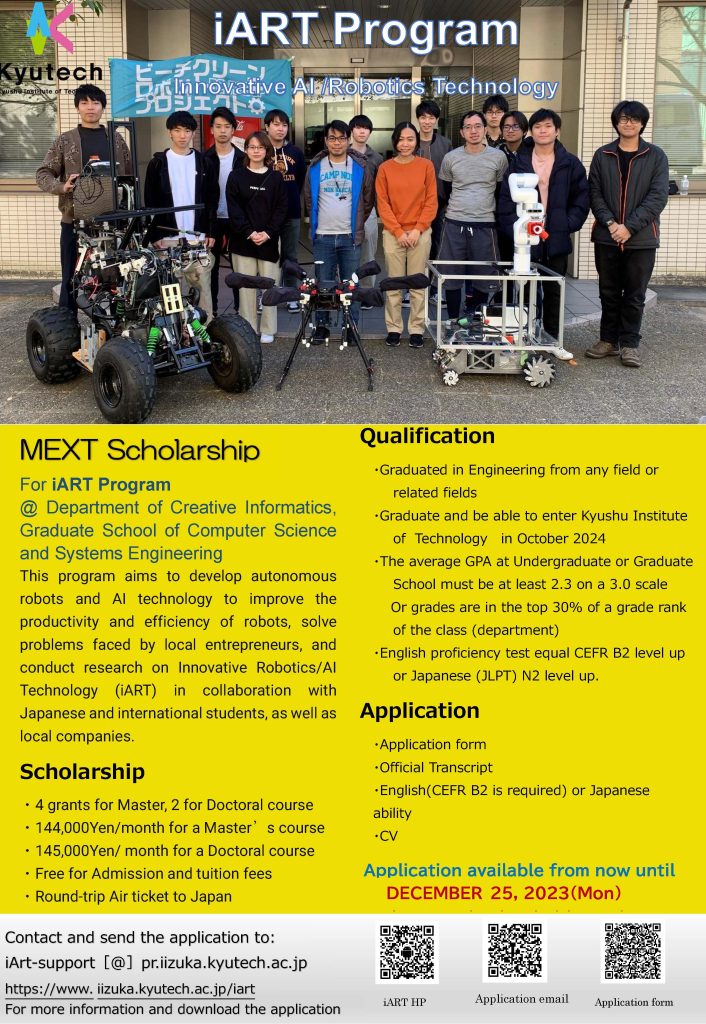 For reference [PDF]:MEXT-Scholarship-annoucement-20231121.pdf
Grade Point Average (GPA) Conversion Method
Applicants must have a minimum of 2.30 GPA, which is calculated by the following calculation method
([No.of GP3 Credits] × 3) + ([No.of GP2 Credits] × 2) + ([No.of GP1 Credits] × 1) + ([No.of GP0 Credits] × 0)
Total Number of Registered Credits

(NOTE 1) For courses in which credits are not earned, the number of credits will be calculated on the basis of the number of courses completed.
(NOTE 2) If applicants have transferred university, the credits earned in the latest university are used to calculate the GPA.
(NOTE 3) The courses of which grades do not fit in the terms of the evaluation scale above (such as "Certified", or "Approved" "Pass / Fail,") will be excluded.
(NOTE) 4) GPA scores will be rounded down to the second decimal place.
Application documents
These documents must be prepared in Japanese or English. If the documents are prepared in other languages, a Japanese translation must be attached. All documents should be prepared in A4 format using document creation software, etc., whenever possible. We prefer translations to be issued by the university or government agency and bear a stamp or embossed seal of the school or the agency and the signature of the authorizing official.
For more information and download the application: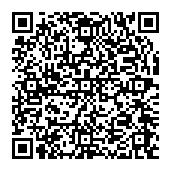 Application Available form now until:

DECEMBER 25, 2023 (Mon)
Required Documents to the Submission
1
Application Form (MEXT Form 1)
2
Field of Study and Research Plan (MEXT Form2)
Please write on A4 size ( At least 2/3 pages)
3
Official Transcript (Original)

An Official transcript must be issued by the president or dean of the university from which the applicant graduated (or will graduate) with the school stamp or embossed seal and the signature of the authorizing official.
Please attached grading System explanation.
e.g. A = 100-90, B=89-80 C=79-70, D= 69-60, F= <59

4
Proof of Graduation from the graduated university
– Master Program
Certificate of (Expected) Graduation
– Doctoral Program
Certificate of (Expected) Graduation and diploma(degree)
5
Recommendation Letter from the graduated university
– Letter of Recommendation from the Head of Department or higher level to President of Kyushu Institute of Technology
6
Official document indicating your high achievement in the most recent university
– This official document should indicate your high achievement.
※Example : your rank in the class, GPA, the letter stated what level you got from how many people in the department or school.
7
Abstract of your thesis and papers
Summarize your thesis clearly and concisely.
8
Proof of language ability either English or Japanese
English
– Applicant must have a certificate of Common European Framework of Reference for Language (CEFR) Level B2 or higher. You can use IELTS, TOEFL, TOEIC (Listening score= 400~、Reading=385 ~)
Japanese
– Or applicant must have Japanese Language Proficiency Test(JLPT) Level N2 or more
9
Copy of Passport
*If you have no passport, Copy of ID card (English version)
10
Photos (3-4 photos) 4.5cmx3.5cm (took within 6 months)
11
The self-introduction short video (around 5 minutes)
12
Presentation file (Master course 15 minutes, Doctoral course 20 minutes)
*CV + Skill, Experience, Research Plan
**Submit after passing 1st screening
13
Certificate of Health Check (submit after passing the final examination)
iART Program MEXT scholarship screening schedule (2024)
School of Computer Science and Systems Engineering, Kyushu Institute of Technology
ProgramDeadline
Schedule/Deadline
Note
1
Application Period
From now to
December 25 , 2023 (Mon)
Submit PDFfile by email


Application form
Research Plan (Designed form)
Official Transcript
English or Japanese ability certificate, English: CEFR B2 level up, or the certificate or Japanese Proficiency Test N2 level up, or Certificate of graduation from the International Program.
CV

2

Annoucement of successful applicants of 1st screening
(Documemt screening)

December 28, 2023(Thu)
- Januray 4, 2024
Successful applicants will be notified by email.
3
Presentation material submission (Power point)
Inform by email
4
2nd Screening ( Interview in English or Japanese)
January 4 -January 20,2024
the interview date will be informed by email
5
Annoucement of successful applicants of final screening
Successful applicants will be notified by email.
6
Required documents submission for the successful applicants
Documents must arrive
Kyutech
by the end of January

Required documents (The original hard copy is required)

Application form with photo (Appendix form 5)
Field of Study and Research Plan (Appendix form 6)
Official Transcript
Certificate(s) of (prospective)graduation of last university/graduate school
Proof of English or Japanese ability test result
Recommendation letter from the dean or above at the
current university (* the letter attended to the president of
Kyushu Institute of Technology)
* if GPA cannot be calculated from the transcript, clearly
states that his/her grade ranking at the university/ faculty
or graduate school is within the top 30%.
Abstracts of theses (Should be concise and to the point)
Copy of passport
Health Certificate (enclosed form)
2 Photos
*** Important
Strict adherence to the submission deadline
** We will inform you in advance if schedule changes
PDF See here ...  Recruitment schedule(2024) [PDF]
How to apply
Send Email to
Professor HAYASHI Eiji (Professor)
Deputy Executive Director for regional Academia-Industry revitalization
Director of the Center for Socio Robotic Synthesis
Department of Intelligent and Control Systems (Robotic Course)
School of Computer Science and System Engineering
Kyushu Institute of Technology
Contact and send the application to : iArt-support[@]pr.iizuka.kyutech.ac.jp
Download the application form from the below QR code

iART Program
https://www.iizuka.kyutech.ac.jp/iart
Hayashi Lab.
http://www.mmcs.mse.kyutech.ac.jp/?lang=en
Hayashi Lab (google site)
https://sites.google.com/view/hayashilab-kyutech
About Kyutech
https://www.kyutech.ac.jp/
Required Documents
Application form (Research student).xlsx
Field of Research and Research Plan.docx